Don't you love being on the verge of discovering a new author, that feeling of anticipating!  Look at the beautiful location where romance writer Annie Seaton is holding the book launch for her latest release Whitsunday Dawn––in the Whitsunday Islands at beautiful Coral Sea Resort.
"Ecological impact, divided loyalties and the pristine beauty of the Whitsundays under threat, can mining spokesperson Olivia Sheridan expose the truth in time?"  Author Annie Seaton brings to life a new era of romance and eco-adventure.  Perfect for fans of Di Morrissey and a sun-kissed tropical lifestyle.
As WP readers will know, I'm not usually a romance reader but I'm rather taken by the beautiful location of this all-Australian story.  Watch out for my review.

On her website Annie says "I am truly blessed to live by the beach on the east coast of Australia.  I am following my lifelong dream of writing, and discovering that readers love reading my stories as much as I love writing them is awesome.  It's what keeps me at my desk each day when the garden and the beach are calling to me!
"You can read of the topical human and social issues I explore in Kakadu Sunset, Daintree and Diamond Sky.  My latest release with Harlequin Mira WHITSUNDAY DAWN  (August 2018) is an historical/contemporary story set in the Whitsunday Islands in 1943 and 2017.​
"My inspiration comes from the natural beauty of our Australian landscapes and I'm passionate about raising awareness of the need to preserve the pristine areas that surround us."
Will you be in the vicinity of the wonderful Whitsundays?  Visit the launch of Annie Seaton's newest book WHITSUNDAY DAWN being held on Friday 7 September 2018 at Coral Sea Resort Jetty, Airlie Beach, Queensland.  A welcome drink then cash bar will be available with complimentary gourmet nibbles and canapes from the Coral Sea Resort kitchen.  RSVP via Facebook https://www.facebook.com/AnnieSeatonAuthor/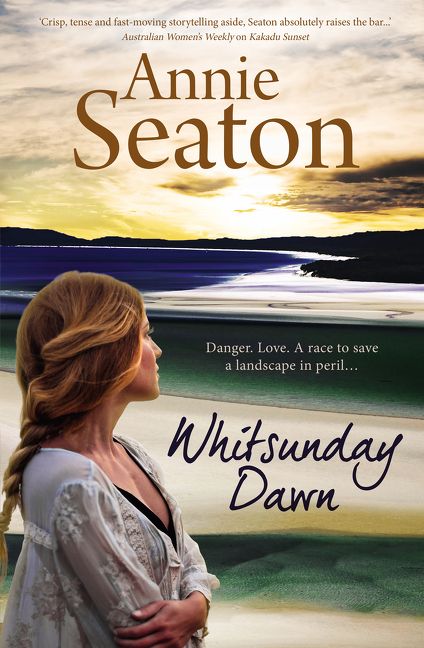 ♥ Gretchen Bernet-Ward